Roman Road M712 at Lindley Moor, 2.5 km North East of Slack Roman Fort
Sept 2015
The Chester to York Roman road (M712) is clearly visible at Lindley Moor (aprox 2.5 km NE of Slack Roman Fort) as a low wide agger aprox 10 metres south of the A643 Lindley Moor road, itself just a few metres south of the M62. (Top Right map, near Peat Ponds Farm)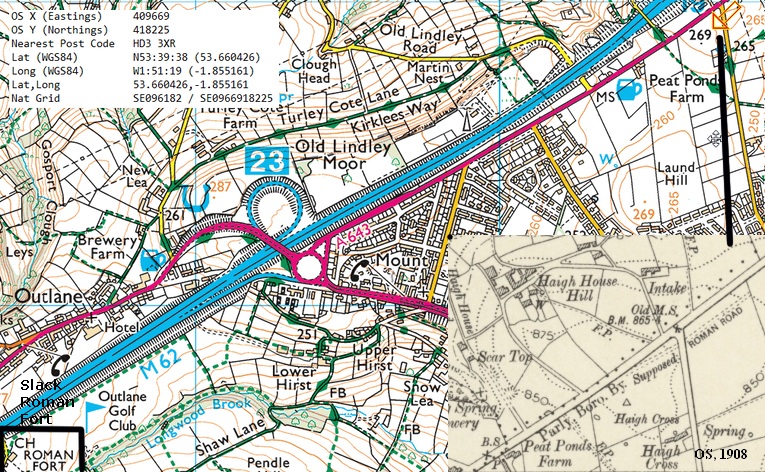 Click here for the ... Google aerial view ... Note the trenches!
and the development into 2016

The site near Peat Ponds Farm is destined for development (assorted industrial units plus 252 houses) and has been subject to scrutiny for a number of years

(Click above for full article)
These investigations in 2011 had resulted in a number of archaeological trenches being dug (visible on Google) , including sections across the roman road.

None of these trenches had been back filled and, when investigated by us in may 2014, they were weed filled scars across the road!

One of the non-backfilled trenches also shown on Google streetview. sept. 2012
(when in streetview go up and down the road and look at the Agger!
e.g slightly further down Lindley Moor road looking south, the Agger is quite clear
and the rise and fall of the Agger against the stone wall.)
On driving past the site on 26 sept 2015 I noticed a significant amount of earth moving had taken place on the site and stopped to have a look.
Development has started.
A new trench has been dug across the road.
(These and other hi res images available if required)
This site at Lindley Moor has been used as an example of how to get a site scheduled
see this article.
but .. The site itself doesn't appear to be scheduled (Its not on the English Heritage list)
Update: MONUMENT NO. 1545066: Reason for not scheduling :
"This section of probable Roman road is not recommended for designation for the following principal reasons:
Survival: The excavated section indicates that only the lower half of the standing earthwork is likely to be Roman and that this road was either minimally engineered or has been denuded of its upper surfacing.
Lack of associated structures: Excavation indicates that the possible roadside structures identified by geophysics are not contemporary with the Roman road.
Local recognition: The earthwork is appropriately recognised by the local planning authority as an archaeological site worthy of preservation in situ within a green corridor. (1) "
Although not scheduled, the most prominent part of the Agger is destined to be in a 40m wide 'Landscape buffer zone and thus NOT built upon.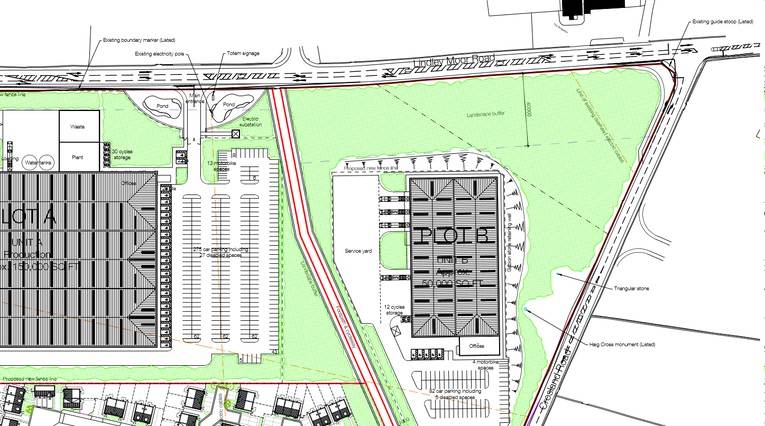 (Click above for the full, zoomable map)
The road to the west of the 'Landscape buffer' will disappear under part of the Industrial unit. on 'Plot A'
Here is Kirklees Planning dept documentation re the site.
http://connect.kirklees.public-i.tv/document/Strategic_Planning_Committee_26_March_2015.pdf

.... extract from the above document.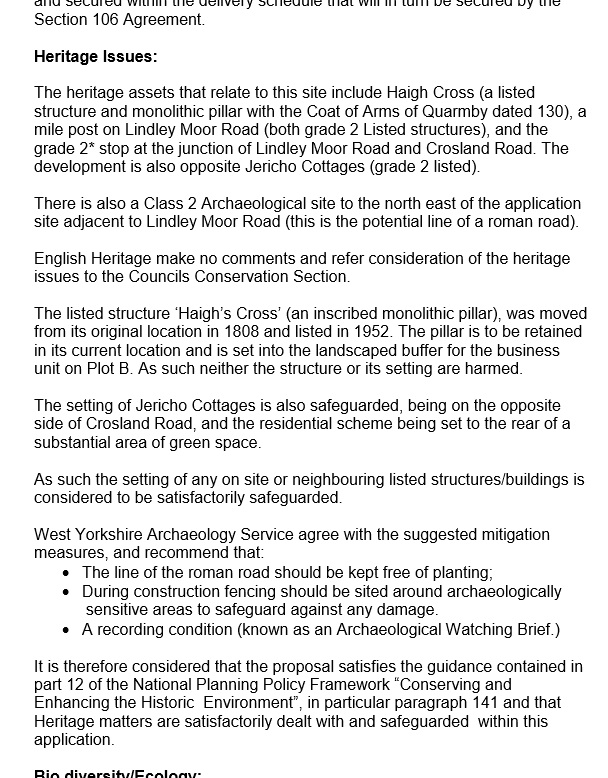 And the Planning application
https://www.kirklees.gov.uk/business/planning/application_search/detail.aspx?id=2014%2f93136

Phil Barrett
castleshawarchaeology.co.uk