Programme - 2018 / 19
2018

Activity

Wed 12 Sept

Norman Redhead (Centre for Applied Archaeology, Salford University) :

Unravelling the mystery of a ruin: Revealing the Medieval Grange at Castleshaw



Note: This talk is at Saddleworth Museum, 7:30 pm (map) OL3 6HS
Members of either society: Free, Non-members £3-00

Wed 19 Sept

AGM followed by - Dr. Mike Nevell :
(Head of Archaeology, Centre for Applied Archaeology, Salford University)
New Light on the Iron Age in North West England
(unfortunately Mike is unable to make this date)
Norman Redhead: A review of the Castleshaw Roman Forts Hinterland Survey, including recent exciting discoveries


Wed 17 Oct

David Cockman :

The Water Supply to Roman Cologne

Wed 21 Nov

Fraser Brown (Oxford Archaeology North) :

From hunter-gatherers to henges: Stainton West, a persistent place on the River Eden

Wed 12 Dec

Andrew Davison (Principal Inspector of Ancient monuments in the NW Region of Historic England) :
Ale for the brethren: the monastic brewhouse and its products Manchester
2019

Activity

Wed 16 Jan

Chris Wild (Centre for Applied Archaeology, Salford University) :

Recent surveys of Castles: Caernarvon, Lancaster and Newark

Wed 20 Feb

Dr. Lindsay Buster (Post-doctoral Research Assistant, University of Bradford) :
Inhabiting Broxmouth: The Biography of a Late Iron Age settlement in SE Scotland

Wed 20 March

Dan Garner (L-P Archaeology, Chester) :


Chester Amphitheatre
Unless indicated all meetings are at
Civic Hall, Lee Street, Uppermill, OL3 6AE
7:30 pm Directions/Map ... Here. T.B.C. = To Be Confirmed
Use the side entrance to the Civic Hall (Near the rear car park)
and it's the room facing you through the door.

Next committee meeting
Wed 29th August. 2018 7:15pm, Location : X Keys.

Digital version of 'Saddleworth Seven One Two'

We are very pleased to have been given permission to publish a digital version of the booklet 'Saddleworth Seven One Two'.
This booklet contains the work of Donald Haigh and the '712 Group' during the 1970s and early 1980s in tracing the route of Roman Road 'Margary 712' From Manchester, out of Oldham and towards the forts at Castleshaw.
For futher details see here, the booklet is available from the Documents page.

Bloomery (Iron Furnace) Test pitting and survey - 1st - 3rd October (Grid Ref SD 999 103)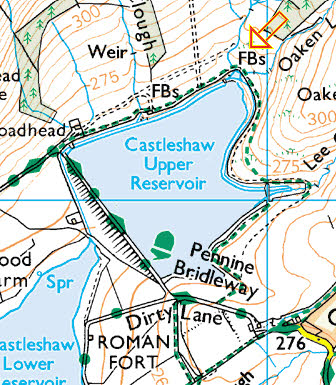 At the north east corner of the Castleshaw upper reservoir (map) There was a test pitting exercise with a laser scan survey, earthwork survey and geophysical survey (the latter at a later day).
The aim was to record and understand a series of depressions and mounds that are adjacent to the medieval iron smelting furnaces (Bloomery) excavated in 1993. (See the reports)
Summary and Photos ... More Photos ...